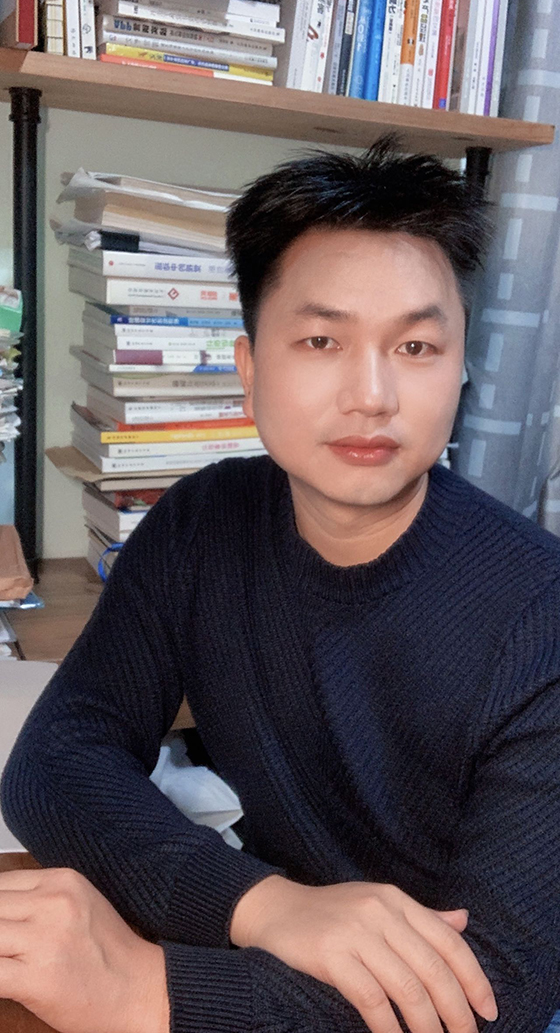 He obtained master degree in software engineering(Digital media art & design) from Hunan University in 2018. He teaches in Guilin University of Electronic Technology with a title of Senior Lecturer. As a senior lecturer and designer, he likes teaching, design practice and design research.
He has led and participated in more than 19 scientific research projects, including 1 collaborative education project of The Chinese Ministry of Education, 11 municipal-level projects, and 8 school-level projects. He published more than 7 papers and edited 5 books. He has been guiding students to win more than 60 municipal-level awards in the competition and undertaking core teaching courses such as interface interaction design, web art design, VI system design, information design, UI design, design thinking, etc.
Recent research areas:Artificial Intelligence + Design, Interaction Design, Industry Design, Design Thinking, Information Design, User Experience Research, Cultural and Creative Industry, Digital Media Art, and Public Art & Design.
Experience in business starting-up, the judge of industry expert and services provided for enterprises
• Committee member,The Fourth Industrial Design Teaching Committee of higher engineering education of China Machinery Industry Education Association, at present.
• Director, Digital Media Art Studio, School of Design and Creativity, Guilin University of Electronic Technology, at present.
• Secretary-general, Guangxi Zhuangniu Educational Public Welfare Fund(广西壮牛教育公益基金), at present.
• One of the Judges, the Guilin "Environmentally Conscious Manufacturing" Industrial Design Competition(2017桂林绿色制造工业设计大赛)in 2017.
• One of the Judges, the Mascot Design Competition of the GREE-tour of Guangxi(环广西自行车大赛)in 2017.(http://www.gxzf.gov.cn/sytt/20171011-659334.shtml)
• Window of Beibu Bay (www.bbwzc.net) founded in 2011.
• Telaotu B2C e-commerce shopping platform (www.telaotu.com) founded in 2012
• Guangxi Huicai Culture Communication Co., Ltd founded in 2012.
He has provided services for more than 200 enterprises and organizations, including Industrial Bank, China Electronics Corporation, Beibu Bay Information Port, Sina Guangxi, Guangxi Branch of Headlines Today (Jinri Toutiao), China Poly Group, China South City, China Construction Eighth Engineering Division, China southern Power Grid, Beibu Bay Incubator, Beihai Municipal Communist Youth League, Hi-tech Zone of Beihai city, Beihai Municipal Commerce Bureau, Beihai Municipal Science and Technology Bureau, Jingxi Municipal Government, Dongxing Municipal Government, Hengxian County Government, Call wine website, Haoqingchun Vinegar Group, Liudianban soy milk,Guangxi ZhuangNiu Dairy, etc.